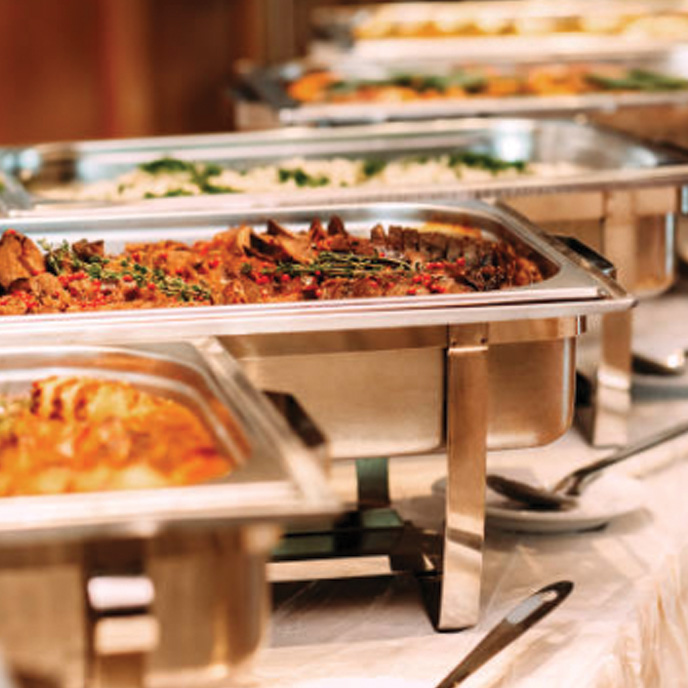 OUR DIFFERENCE
As a customer, you are the most important thing to us. We build our business on honesty, integrity and professionalism, with the goal of ensuring that our customer relationships will last years and will not be just a one-time transaction. Here's what we bring to the table and reasons why you should chose KDW Catering as the caterer for your next event or the meal plan delivery provider for you and your family.
Over 4 years collective experience in the catering industry by our team.
A committed team of food professionals dedicated to food quality & flavor.
A server staff team that can effectively handle large and small events
An On-Site Coordinator at every staffed function.
Commitment to Innovation: Each year, our team attends catering seminars and conferences to stay up-to-date with new trends, new recipes, creative serving presentations, and cutting edge techniques to ensure that we are giving our customers the very best.
New healthy Meal Plan choices – updated weekly
We know Baltimore and our great state of Maryland.. From local food favorites & unique beverages, to popular taste trends and area venues – we know what works and can help you make your event a great success.
Food that not only tastes good, but nourishes, energizes, and is satisfying to you, your family, and your guests.
We use the best ingredients from local markets and our trusted suppliers
We NEVER add any preservatives, MSG, or GMO to our food
We cover every type of diet – if you need a special vegetarian, vegan, gluten-free, dairy-free or a low-carb menu item, we are here to please!
We consistently look to innovate and embrace new food trends, while also maintaining a wonderful balance so that our food choices are both familiar and pleasing to your palate.
Professional commercial kitchen, prep, storage and cleaning facilities.
Industrial-grade cooking, transport and serving equipment
Uniformed KDW Catering dress codes for all of our chefs, servers, and entire team.
Completely self-sufficient to accommodate on-site catering (when access to facilities is available) and off-site catering. We have the equipment and capacity to provide our services almost anywhere.
You can relax and enjoy your own event – we'll take care of everything from set-up to clean-up.
From the first conversation with you, we treat you like family! We'll leverage our experience to help you plan a menu that's healthy and balanced, fits your desired tastes and needs of your guest, and stays within your budget.
Our KDW Catering team is made up of some great people, who are also very talented, and they are always willing to lend a hand to help make your event a success.
We're flexible, nimble and cool as a cucumber under pressure. We'll do our very best to accommodate near-event special requests, day-of-event last minute guests, or other unexpected things that may come up. We understand that even the best laid plans can sometimes have detours that need to be successfully navigated with ease.
We use software to plan, schedule, track and bill every catering order to ensure all details are captured and no deadlines are missed.
We have unique, healthy culinary solutions to fit every taste and budget
Our relationships with local suppliers, attention to details, and experience with providing catering for a variety of different types of events of various sizes enables us to keep prices affordable, while also ensuring food quality & service stay high.
Everyone likes surprises, except for a surprise bill. An event proposal from KDW Catering will always have a full breakdown of all costs involved for your review and approval.